THE F-ROCK BLOG
March 31, 2011
Chelles Battle Pro once again coming out with an extremely sick trailer. Hopefully this will get you hype for the weekend.
---
March 30, 2011
While looking for something to post I stumbled upon this gem. Busta Rhymes Woo-Ha remixed to scenes of Godzilla effing stuff up. Doesn't get much better than this:
---
March 29, 2011
New Marcio trailer. Gotta love the Bruce Lee scene in the beginning.
---
March 28, 2011
Dog skateboarding, exactly what it sounds like. Also, get your photos in for our photo contest, only 3 days left.
Dogboarding from DANIELS on Vimeo.
---
March 24, 2011
If you are in the Seattle area this weekend, be sure to check out Break Festival, a 5 vs 5 b-boy competition with the requirement that one of your team members must be a popper/locker. Check the flier below and click
here
for more details.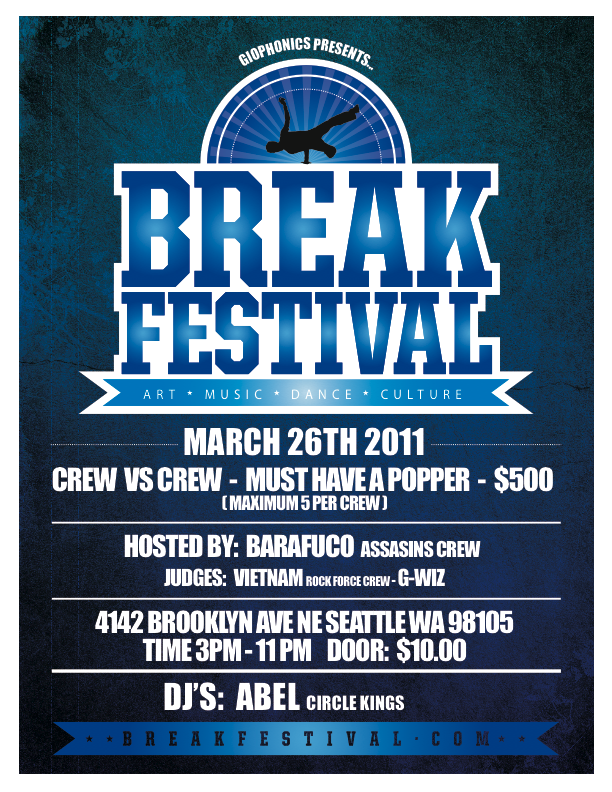 ---
March 22, 2011 F-Rock Photo Contest
Once again we will be doing our F-Rock Photocontest. We will be looking for difficult moves, and overall aesthetics of the photo. Winners will receive an F-Rock gift package including a Frank crewneck, a woodallion, Outshine Rewind DVD, and $50 cash.
-You must own rights to the photograph
-We are looking for original freezes or creative photos
-Extra points for difficult freezes
-Submissions must be in by March 30th
-Email pics to frockclothing@gmail.com with the subject line "March 2010 Photo Contest"
-2 submissions per contestant only please
-Visit our gallery HERE to see past winners

---
March 21, 2011
KnowMads from Seattle with the ill freestyles. Thanks to
Boxcutta
for the dig.
---
March 16, 2011
More footage up from the Northwest Sweet 16, this time, highlights.
---
March 15, 2011
Northwest Sweet 16 was once again a huge hit. Check out the final battle Tim the Pit from Massive Monkees vs. Mango from No Roots. Props to Mango for the win.
---
March 11, 2011 Hype Battle Fridays
Tomorrow is the big day for Outshine Productions. The Northwest Sweet 16's 4th year happens and the hype surrounding it this year is amazing. To understand why, check out the clips below on this week's hype battle fridays. Visit
Outshine Productions
for more info.
---
March 10, 2011
Classic Northwest hip hop. Didn't even know about these guys, so thanks for Jermz (Dance Broomz) for the dig.
---
March 9, 2011
One of Seattle's biggest b-boying events happens this Saturday. This will be the 4th year of the Northwest Sweet 16. Be sure to check it out, and visit
Outshine Productions
for more details.
---
March 8, 2011
Just Jam International putting together what looks like a spectacular event. Also check the F-Rock Crest shirt flash at 1:44. We're going international baby!!
Just Jam International 2010 from jamesc films on Vimeo.
---
March 4, 2011 Hype Battle Fridays
This week we take you to Brazil for battle:BRAZIL with one heck of an exhibition. Neguin, recent champion of Red Bull's BC One, went head to head against Nasty Ray from Boogie Brats Cali.
---
March 3, 2011
Just a sneak peak at F-Rock's Spring catalog. We will be bringing back a couple of our classic designs including the below the design, "Crest". Be on the lookout for new shirts in the women's and men's store soon.
---
March 1, 2011
This Saturday will be the second Breaking for Haiti jam. Last year, HBL was able to raise over $2000 for One Day's Wages. Not only is this a great cause, but the jam is extremely fun. If you're in the Seattle area on March 5th, please come and support. Flier below, or visit this
link
for additional info.
---