March 30, 2010
Truly one of the geekiest things we have ever seen, but done oh so well. Galactic Empire State of Mind:
---
March 29, 2010
We are fortunate enough to have a real pro judge our photo contest this month. Vivian Hsu, from Vivian Hsu Photography is one of the most talented photographers we have ever seen. Check out her blog
HERE
and a couple of her pics from her freestyle collection below.
What inspired you to start working with b-boys/b-girls?
I was still in photography school and decided that I wanted to photograph a dancer for one of my final projects. I wanted the challenge of shooting a moving, vivid form. Once I had the chance to work with a bboy, my love for the craft and culture grew immensely.
How does photographing breakers compare to photographing other subjects?
It's very challenging because a breaker's form is constantly changing, so I am, in turn, constantly having to refocus and recompose my photograph to capture each movement. Unless, of course, they're posing for me, then it's boring. Just kidding.
What is your favorite food and why?
My very favorite food is my mom's cooking! No explanation needed. But I will explain anyways. My mom's food is the best Taiwanese food in the whole wide world!!! That's why I steal all her recipes and cook for my friends, and then take all the credit. Top three dishes: pot stickers, seafood hot pot, and egg rolls.
Without spending it on anyone else, what would you do with a million dollars?
I would buy a Delorean with a flux capacitor that goes 88 miles per hour. Then I would go back in time and change the world.
What will you be looking for in the winner of the f-rock photo contest?
You'll score big points with me if you can take a picture of your reflection in a bathroom mirror with your cell phone camera. But if you want to win, send in a photograph that tells a story. Good lighting, color, and composition doesn't hurt, either.
---
March 24, 2010 F-Rock Photo Contest for $100 in Cash & Prizes
This week benchmarks our fifth F-Rock photo contest. Send us your best b-boying/b-girling picture and win an F-Rock Clothing goodie bag including a t-shirt, spin cap, cinch bag, mix cd, and $50 cash. Criteria for the contest is as follows:
-You must own rights to the photograph
-We are looking for original freezes or creative photos
-Extra points for difficult freezes
-Submissions must be in by March 31st
-Email pics to frockclothing@gmail.com with the subject line "March 2010 Photo Contest"
-2 submissions per contestant only please
-Visit our gallery HERE to see past winners

---
March 23, 2010
Beautifully done graff video peices from Videofraff 10 DVD. Video clips below from Acet and Queen Andrea's portion of the DVD:
Videograf 10 - 20th Year Anniversary DVD Coming April 10th. from Carl Weston on Vimeo.
---
March 22, 2010 Featured Artist Pose

Hailing from the Windy City, Pose made his first attempt at graffiti in 1992. Since then he has added a multitude of contributions to the Graff game and set out to conquer every medium visual art has to offer; on and off the streets. An aesthetic chameleon and jack of all creative trades, Pose enjoys abusing the alphabet, pomade, cold steel and the triumph of originality. [Knowngallery.com]
-Check out more of his work here
---
March 18, 2010
Coming soon to our store, the Frank bandana. Be sure to grab one in April:
---
March 17, 2010
Breaking the Silence coming up on March 20th. Be sure to check it out if you're in the Seattle area: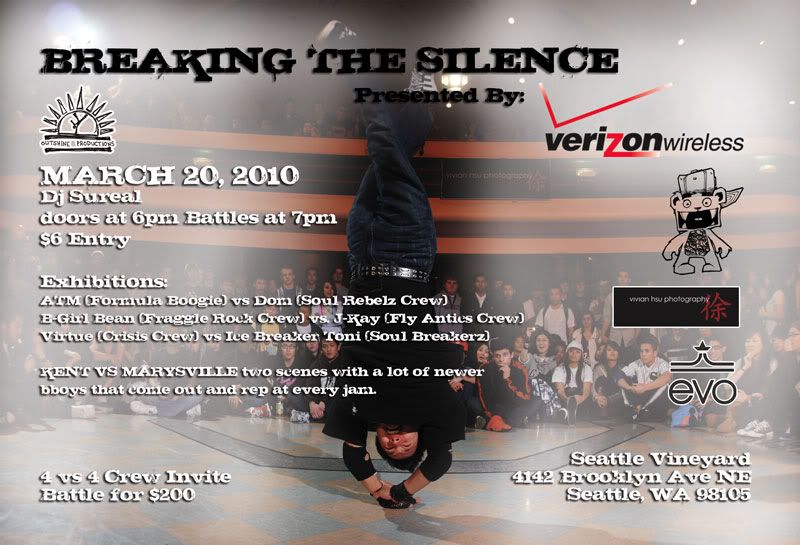 ---
March 16, 2010
Big shout out to Justice from the Hip-Hop Handbook doing big things in Vietnam. Be sure to check out his
blog here
, to see what he's been up to. Always good to see Frank on a different continent:
---
March 11, 2010
An interactive DJ floor mat, cool idea, check it out below:
---
March 10, 2010
The Neurosonic guys are back again, and this time with a "live" show. I was not aware that holograms existed, but here they are:

DRUMS: WILL CLARK TURNTABLES: JFB HEADS: BEARDYMAN


Neurosonics Live from Chris Cairns on Vimeo.
---
March 9, 2010
James Brown teaching us all how to get down. It doesn't get much better than this (props to Soul Rane for the dig):
---
March 8, 2010
Probably the most amazing show I have ever seen. LXD at the Oscars:
---
March 5, 2010 Hype Battle Fridays
This week we feature a battle from the prelims at the Northwest Sweet 16 - 2010. Jbugz (Soul Felons) vs. Goodwill (17.42):
---
March 2, 2010
Back in attack. Mos Def ripping it up with Ski. Good to see him still on top of his rap game:
Ski feat. Mos Def-Taxi from Creative Control on Vimeo.
---