January 6, 2009
We will be starting this year off with a bang. In our January photo contest, we will be giving away a gift package including 2 F-Rock tees, a spin cap, and cinch bag, and F-Rock b-boy towel. Peep the requirements and send us your photos:
-You must own rights to the photograph -We are looking for original freezes or creative photos
-Extra points for difficult freezes
-Submissions must be in by January 15th
-Email pics to frockclothing@gmail.com with the subject line "January Photo Contest"


---
January 7, 2009
If only they would come out with a DVD... here is a trailer for the last Freestyle Session. We've talked to Cros about FSS 10 DVDs and he said they would be out fairly soon. As to what that means, your guess is as good as ours, but we will post further information when it arrives.
---
January 8, 2009
On Jan 17th, we will be holding our 2nd annual NW Sweet 16 event, presented by Verizon Wireless. It will be in Seattle in the U-District with $500 in cash prizes. Be sure to check it out.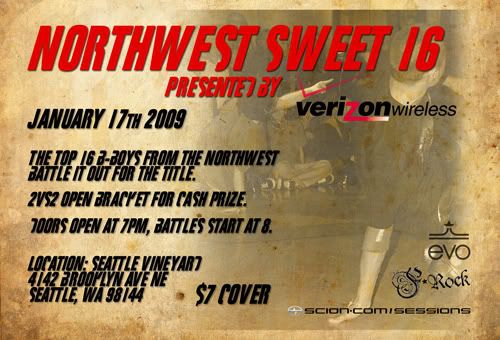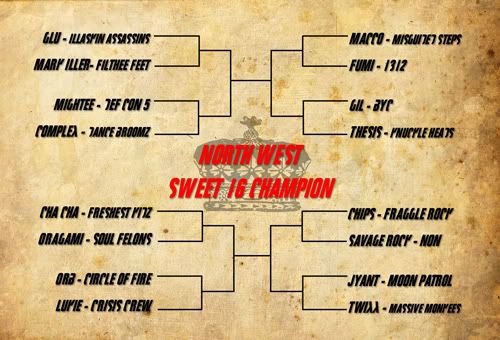 ---
January 12, 2009
We dug up this book on street art at notcot.com, here is a small blub on this interesting little collection.
"Written On The City has been collecting up imagery from around the world of textual street art ~ and the book is now here! This project is the brainchild of Axel Albin and Josh Kamler of Language In Common. Trying a new form of book review ~ scanned in a bunch of random pieces of pages i liked to give you a feel for things on the next page!
Also ~ the letter, business cards, stickers, etc were so fun, i scanned those for you to check out too! And the next time you see some great texty street art, snap a pic and send it over to Written On The City!"
www.notcot.com
---
January 13, 2009
CLASSIC!!!
---
January 14, 2009
It is interesting that the graffiti culture has been putting out the best documentaries, as oppose to the other elements of hip-hop. This is no doubt due to the interest that vandalism and danger seem to create, but it would be good to see some of the other elements putting out documentaries of this caliber. Here we have "Getting Up" featuring some of the best writers in the world:
---
January 15, 2009
This is a Wendy's training video apparently. I'm not sure how this happened but I am glad it did. I bet you anything that Wendy's and this rapper would like this video to disappear forever.
---
January 19, 2009 Respect to MLK
Many of us have heard parts of Martin Luther King Jr's famous "I have a dream" speech, but how many of us have actually taken time to listen to it the whole way through. We invite you to do just that on this the day of MLK's birth.
---
January 20, 2009
Thank you to everyone who made the Northwest Sweet 16 a success. We had over 400 people at the Vineyard, and 42 crews enter the 2v2s. Congrats to Misguided Steps for taking the open brackets, and Thesis for taking the Sweet 16. Second places went to Alaskin Assassins and TimChips. Check out some of the pics from the jam below, taken by Vivian Hsu.
---
January 21, 2009
January's photo contest prize goes to Anssi Saviluoto from Finland. Check out his pic below and all of the runner ups from the contest in the photo gallery section of our website.
---
January 22, 2009
The Northwest Sweet 16 highlight clip, check it:
---
January 23, 2009 Hype Battle Fridays
Cloud vs. Lego in an old school Florida battle. Two legends in the making:
---
January 26, 2009
Format Magazine started a collection of custom sneaks from around the globe. We personally will be getting into the sneaker game in the next couple of years, but for now, here is a taste of our favorite ones from their collection:
---
January 27, 2009
Aight, this guy is weird, but hey, pretty much anyone who gets too far into the hip-hop culture is somewhat messed up.
---
January 28, 2009
Not very many people know this, but Run DMC actually traveled back in time to the Cold War era to teach the Soviets the ways of hip-hop, this is rare footage of a jam put on by the classic rap stars:
---
January 29, 2009
This is a classic, but for those who haven't seem it, enjoy:
---
January 30, 2009 Hype Battle Fridays
Footage from the recent Northwest Sweet 16. Fumi vs. Thesis, definitely one of the better battles of the night.